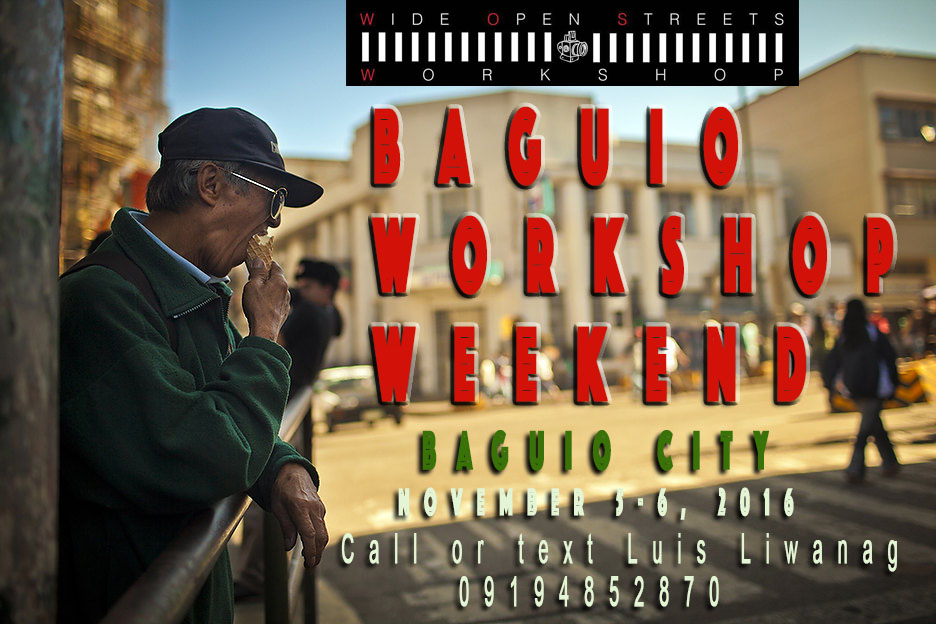 Call for Participants: Wide Open Streets Workshops Wide Open Streets presents:
Baguio Workshop Weekend: A two-day workshop on street photography.
For beginners or advanced enthusiasts, learn what contemporary street photography is all about, it's history and logic…how to see and make pictures, learn how to edit and post process your images effectively and simply through interactive group discussions and critique plus++ personalized one on one sessions with Luis Liwanag on how to feel, see and capture meaningful images from the chaos of daily life. Real-world tips on how to find your own visual stamp without disrupting your subject's privacy. Pick up lots of other useful skills in photography.
Do all these in a weekend package in the vibrant and cool city of Baguio.
Workshop Registration fee is inclusive of meager group accomodations.
Transportation and Food expenses will be shoouldered by the participants.
Call or text me for swifter response at +639194852870.Deadline for registration is on Monday October 24, 2016…Limited slots only.
Selected outputs from the workshop will be included in a forthcoming photo exhibition.